My 5 steps to stationery nirvana, using a secret weapon
My 5 steps to stationery nirvana, using a secret weapon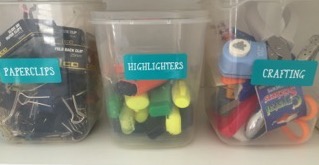 To achieve our goal we will use my secret weapon – LABELS.
We are all guilty of popping out for some stationery, only to find when we return home we already possess exactly the same items elsewhere in the house. We just couldn't find them earlier – and now we've spent a bomb and didn't need to.  Oh well, the solution to this problem is quite simple.
Collect all stationery from around the home, and sort into groups of like with like.

Decide to keep supplies in a central place – like a cupboard or shelf.  Only have the bare minimum in the kids' room or desk areas.
Place all remaining categorised stationery in separate containers, i.e.: glue with glue, in the central cupboard or shelf.
Label each container.  Labelling has multiple benefits. Firstly you will be able to find things easily. Secondly, clearing away is a breeze – kids (and partners)  can help to put things back in the right spot. Lastly, you may save a fortune as it is so simple to do an audit of your supplies, allowing you to only buy what is needed. These delicious looking 'Thats Mine' labels are in teal with a "woodlands" font.
Experience the joy of having all your office tools at your fingertips. Spark Joy!