Have you considered Virtual Decluttering?
Virtual Decluttering is a bespoke coaching service, for those living outside the Sydney area who would like my service. Also for those Sydney siders working full time, with limited availability and busy lives. A service tailored to your needs and hours, allowing you to be more organised and declutter savvy.
Virtual means we problem solve your clutter without physically being at your home. You're coached into a clutter free way of life – with a supportive ear and expert guidance.
The Virtual Declutter includes two hour FaceTime or WhatsApp session. During the session, I will make an assessment of your needs, and discuss how best to proceed. We will get started on one area of your home. You will then receive a personalised bullet point list to action as homework, I can guide you to a decluttered and orderly space, whether it is your kitchen, office or wardrobe you would like made over.
Cost is $200 for 2 hours plus the detailed notes.
Follow up sessions to ensure you're on track and continuing to make progress are $80 per hour.
This allows you to organise and rediscover the rest of your home – without travelling or attending any courses.
The Virtual session is available in the evenings and on Saturdays – so you make the best use of your time.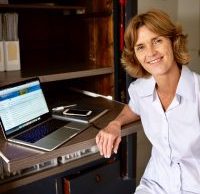 Contact Jo Carmichael Now and Get 'All Sorted Out!'