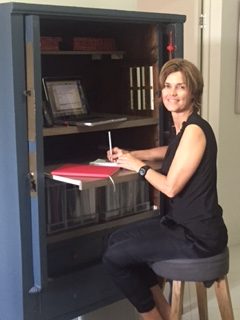 This is for you if you work full time, live outside of Sydney or just feel virtual decluttering would fit in to your busy life. (We are available on Saturdays). A virtual session means your home is organised with out me being there in person. A virtual declutter may suit if you are downsizing, or moving home. Maybe you are selling your holiday home which is out of the Sydney area? Maybe you'd like your home or office, to be more organised? We help you sort like with like, making a logical place for everything. Maybe this would be great for a family member who isn't tidy!
The Virtual Declutter includes two 30 minute FaceTime or Skype sessions. During the initial session, I will make an assessment of your needs and discuss how best to proceed. I then send you a written plan in bullet points – this is our Plan of Action. With our second call or session, the declutter process continues – guiding you to an orderly space, whether it is your kitchen, office or a wardrobe.
Telephone or Skype follow up sessions are also available.
A happy Virtual Client recently said
"I engaged Jo Carmichael of All Sorted Out through her virtual decluttering sessions. This was achieved through phone conferences/facetime/video to give me direction, suggestions; this was always followed up with notes and action plans with a time frame. The sessions proved absolutely invaluable. I streamlined the kitchen, made it much more user-friendly and a beautiful space to work in."
Please ring Jo on 0438 291 568 to discuss further, and embark on a virtual makeover.